Festival Bay Park
假日海湾公园
Project Location: Rio de Janeiro, Brazil
Festival Bay Park site located in the Marina da Gloria in Rio de Janeiro. As part of the Rio 2016 Olympics, the site is slated for a reconsideration of existing park spaces, new urban development and the reconfiguration of the marina for a new exhibition hall and visitor center. In many ways, the site represents a potential new center-piece in the fabric of the city – a showcase destination that includes some of the city's most important civic buildings, public places and ocean front beaches. The design concept is to create a new waterfront park and a new frontage for the city to optimize opportunities for social interaction with water.
Currently the site is blocked by the two major highways which act as barriers against visitors to approach the waterfront. So it is important for the design to perhaps make the connections that link between the downtown to the waterfront. How to create the passages for the park and how to give those a sense of civic scale, generosity movement, how a frontages and program could become much animated vibrant with cafe, restaurants and promote the economy development of the waterfront.
The design will provide 5 passages to create the linkage to the waterfront from the downtown to the water frontages, create 5 landscape rooms which formed the gardens as foundation to support those passages, and one big promenade as the joint strip holding the passages and rooms to create a continuous and vibrant water's edge with the variety programming plazas.
Project Credits & Team
Ms. Wei Wang
University of Pennsylvania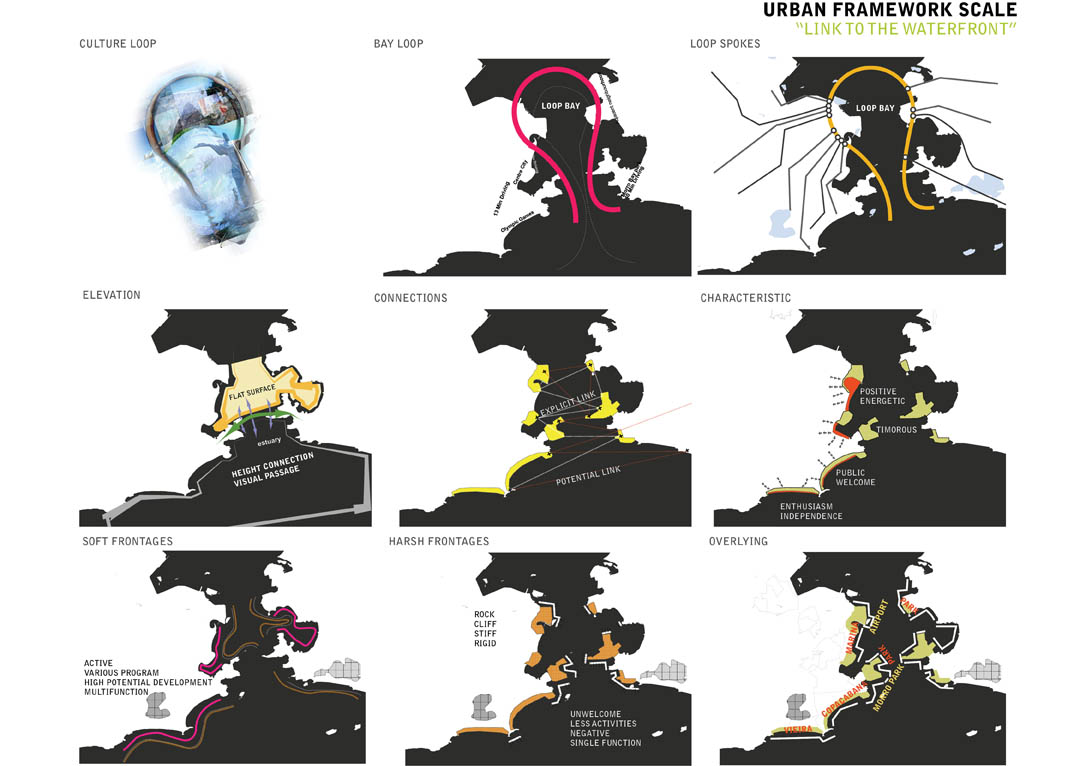 项目地点: 巴西里约热内卢
假日海湾公园位于巴西里约热内卢市区水岸边。作为2016年国际奥运会的场址之一,该区域将会在原址上重新设计。基于新的城市发展将在原址上新建新的会展中心和旅游集散点。许多因素引导下,场地展现了潜在新的城市发展机会。这里将展示城市里最重要的公共建筑、公共空间和城市海滩。设计的重点范围是重新打造一个新的水岸公园和一处新的公共活动平台,充分鼓励民众亲水和社会娱乐活动。
基地现有的难点是海湾公园被两条高速公路所隔开,阻挡民众有机会到达水岸。因此从市区到水岸中间十分必要建立一个连接纽带和景观通道。设计师设计的着眼点是如何建立这种通道到达水岸,并且该水岸的建成能够的推动城市的发展;考虑各样的社会功能和使得成为新型城区的一部分,并能提升经济发展等各种综合优势。具体设计中将布置五条景观通道链接从城市到水岸的方案。同时五条景观通道又有五个景观花园支撑。而五大通道和五大花园又被一条岸边散步道所贯穿连接;像是一条连接纽带支撑着通道所连接的社会功能和休闲水岸广场。
特别感谢:
王巍女士
宾夕法尼亚大学景观建筑系