Post Date:
2019-08-10 17:13
"…哪怕展现出一点点的艺术成分,也是人类爱心和趣味的最佳例证……园林中纯粹艺术会为其增添无尽的美感…"——埃德加·爱伦·坡,《阿恩海姆乐园》
但是,也许还不止于此,自然元素一旦与"人类的艺术感达成某种和谐或一致性",就能够展现出"灵魂介入景观而带来的情绪"。这不仅是爱伦·坡在这篇《阿恩海姆乐园》小说里的主人公艾莉森倾全部资产用以建造的这样一处风景,也是我们希望在包头这座城市打造的这样一座公园:
▼项目实现过程,realization process
"…A mixture of pure art in a garden scene adds to it a great beauty…
as also is the reference to the sense of human interests…"
-《The Domain of Arnheim》by Edgar Allan Poe
However, perhaps not only that, once the natural elements "to be brought into something like harmony or consistency with the sense of human art ", they can "convey the sentiment of spiritual interference". This is not only the scenery that Allen Poe's protagonist Alison, in the novel of The Domain of Arnheim whom had spent all her assets to create, but also the park we hope to build in Baotou.
▼景观总平面,Landscape Master plan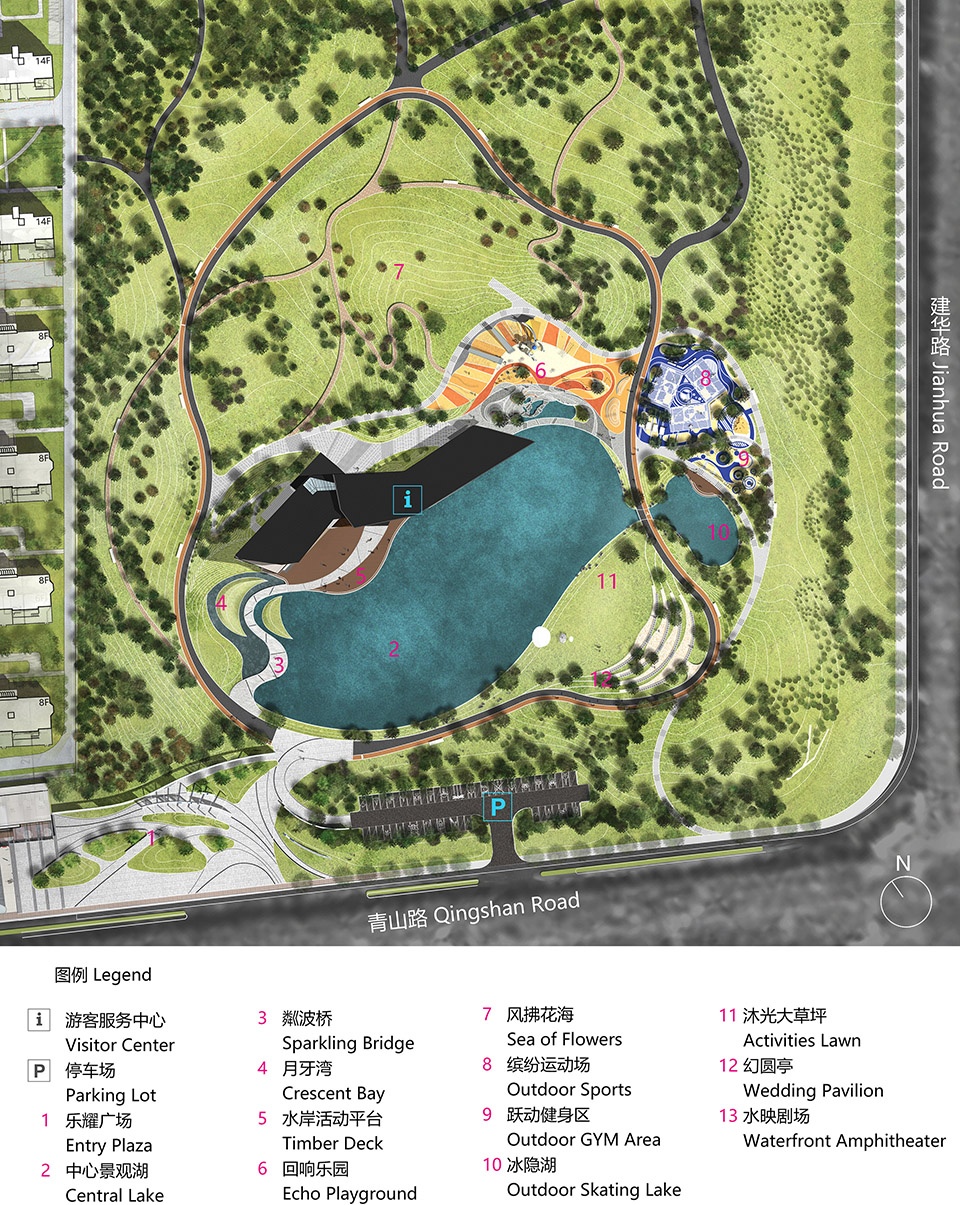 包头·万科中央公园
BAOTOU · VANKE CENTRAL PARK
通过设计表达关爱,人人密不可分的参与让核心情感得以保存,尊重场地和自然的秩序,同时艺术的融入和过渡形成一个全新的、沉浸式体验
To express the sense of care through design, to preserve the core emotions by everyone's participation, to show the respect of the venue and natural order. The integration and transition of art form a new, immersive experience.
▼距场地2KM的赛罕塔拉生态园,Sai Tetara Eco-Park 2km away from site
▼场地环境分析,context analysis
通过调研与实地踏勘,除了已经存在的一个偌大的、展现内蒙原始美和相当自然的赛罕塔拉生态园,在场地周围半径15km内,还有七个各式主题的开放式公园。作为开发商进入包头的首个作品,设计希望这份送给包头市民的厚礼未来展现出来的面貌既震撼而有诗意,充斥着美的广度,新奇和温度。
Through research and field exploration, except a large ecological park( Sai Tetara Park ) 2 km away that shows the original beauty of Inner Mongolia, there are seven parks with various themes within 15km radius of the venue. Therefore, as Vanke's first project in Baotou, ZAP groups hope this future gift to Baotou citizens could be both shocking and poetic, full of beauty, novelty and warmth.
▼包头万科中央公园首开区占地约90,000m²,位于包头市心腹地带,地处新都城区青山路、建华路交界口
The Phase one of Baotou Vanke Central Park cover an area of approximately 90,000 m²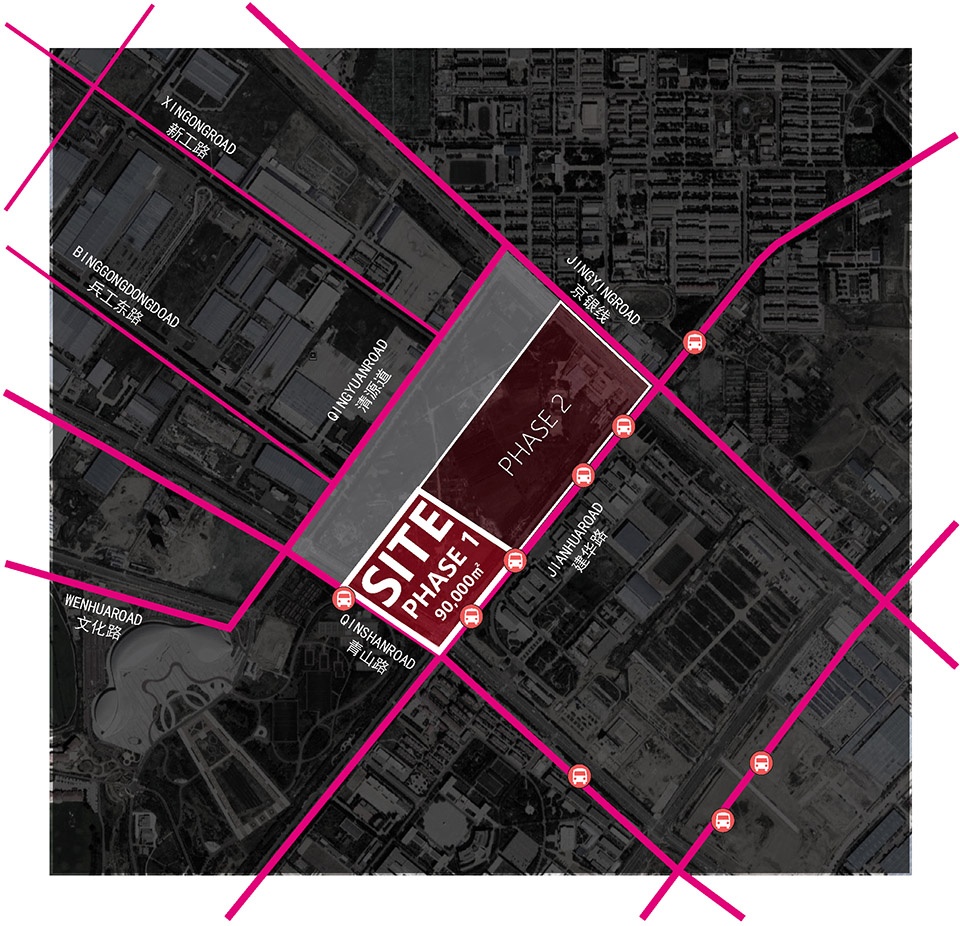 ▼现场WORKSHOP概念草图推演,Concept sketch deduction during site WORKSHOP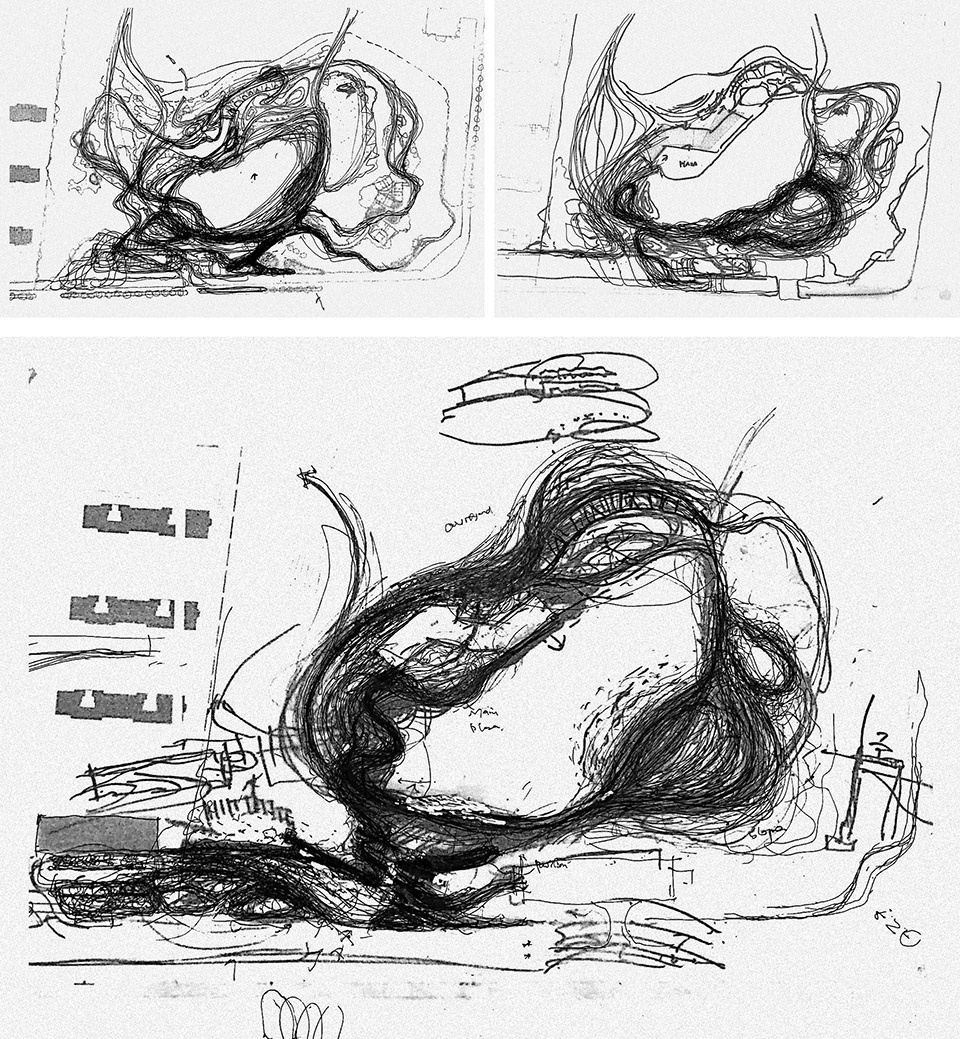 场地地势北高南低,南部现状地块下凹,依据场地现状设计一片湖面,既符合汇水地势,也能打造包头不多见且开阔的大水面景观,而所有的活动和场景设置环绕布局在水岸周围,更大地发挥'水'的溢价。
The terrain of the site is high in the north and low in the south, and the existing south land is concave. Therefore, based on the current situation, ZAP designed a central lake, which not only conforms to the watershed terrain, but also creates a rare large open water surface in Baotou. All the activities and scenic spots are arranged around the shore, making full use of 'water' .
▼现场实景鸟瞰图,Aerial view
除了沿湖设置的多样活动空间组团外,景观湖面的打造让游客中心建筑外挑式的正立面的倒影投映于微拂湖面,面向着公园主入口,匍匐向两翼生长的建筑北面一层也设计为半掩土,融进景观打造的地形堆坡之中,同时建筑设计上克制的斜坡面屋顶连接着起伏延绵的林冠线,这种对于自然的融合与借用,为公园平添一种巨大的魅力。
In addition to the diverse activity space along the shore, the landscape lake is built to reflect the image of the front elevation of the tourist center, facing the main entrance of the park. As for the building, its north wing is designed to be semi-buried, melted into the landscape terrain, while its roof slope is connected to the undulating canopy line. These methods of integration and borrowing of natural add a huge charm to the park .
▼包头·万科中央公园游客中心,The visitor center of Baotou Vanke Central Park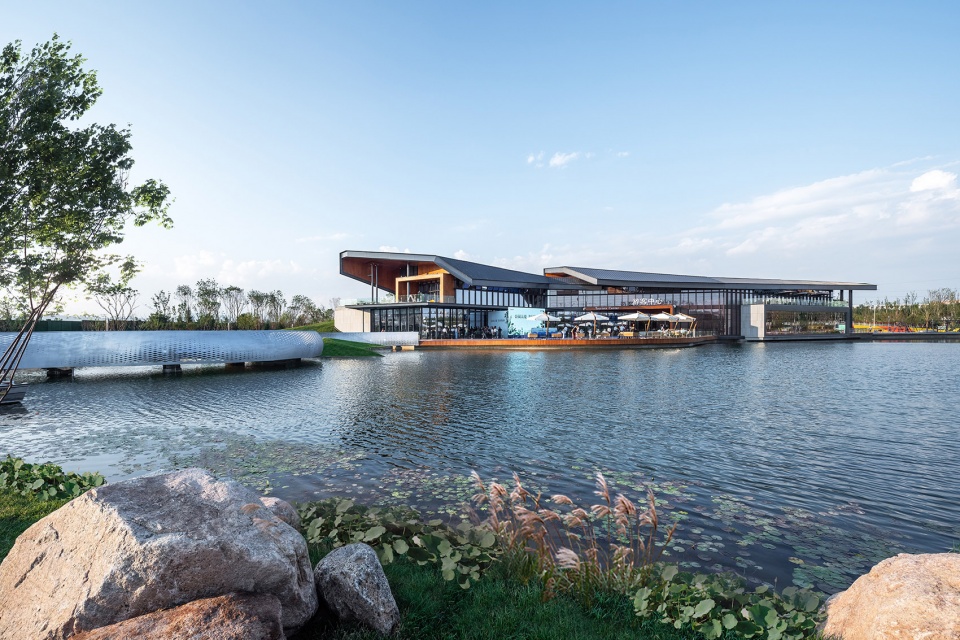 01. 乐耀广场
ENTRY PLAZA
▼乐耀广场概念草图,Concept Sketch of Entry Plaza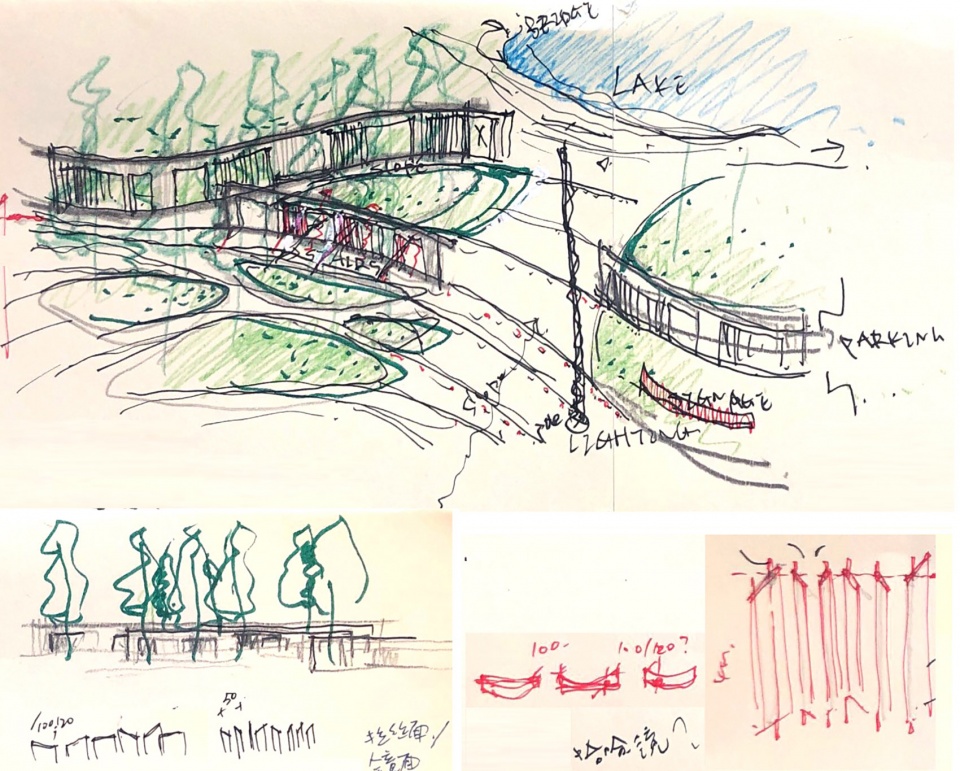 融入能使人即兴参与和互动玩耍的娱乐性,在景墙的设计中,拨动旋转、凹凸哈哈镜(曲面镜面不锈钢)和其多角度反射效果的结合带给人们惊喜和愉悦。除了白天的炫目创意集聚了人气外,前广场的设计也结合夜间灯光的耀动,在傍晚为周边市民提供了一个环境友好的乘凉交流空间。
Incorporate entertainment that enables people to improvise and interact with each other. As for the landscape wall, the combination of rotating, concave-convex distorting mirror (stainless steel) and its multi-angle reflection bring surprise and pleasure to people. In addition to the playful creativity for daytime, the lights design of Entry Plaza also provide an environmentally friendly and cool communication space for the local citizens at night.
▼夜间鸟瞰,aerial view by night